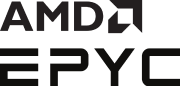 AMD EPYC™ 7003 Series Processors
AMD EPYC™ has been engineered for data centers that rely on CPU performance and throughput. From hyper converged infrastructure, to database, to big data analytics to high performance computing, workloads have more cores to work with. AMD EPYC™ 7003 Series Processors scale from 8 to 64 cores (or 16 to 128 threads per socket). No other x86 server processor achieves this level of core density.
Learn more

AMD Instinct™ MI200 Series Accelerators
The latest data center GPUs, designed to power discoveries at Exascale, enabling scientists to tackle our most pressing challenges.
Learn more

AMD Radeon™ PRO W6000
AMD Radeon™ PRO W6000 series workstation graphics cards deliver exceptional performance, stability, reliability and a host of innovative features. These new graphics offerings power demanding architectural design workloads, ultra-high resolution media projects, complex design and engineering simulations, as well as advanced image and video editing applications.
Learn more

AMD Instinct™ MI100 Accelerator
The era of exascale is here. Immense computational power coupled with the fusion of HPC and AI is enabling researchers to tackle grand challenges once thought beyond reach.
Learn more