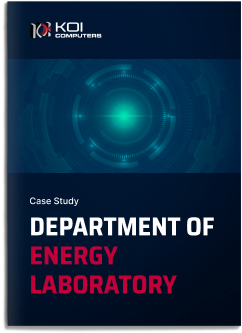 Department of Energy Laboratory
A Department of Energy Laboratory that hosts a range of cutting-edge experiments and develops and builds technologies that support particle physics research at locations around the world was in need of a new Institutional High-Performance Computing Cluster to support its vision and mission.
For this new Institutional HPC Cluster, the Laboratory had specific performance and technical requirements along with other requirements such as on-site installation and support. Koi Computers was able to propose a complete solution meeting all of the performance and technical requirements using the 2nd Gen. Intel® Xeon® Scalable Processors and Intel® Omni-Path High Performance Computing Fabric.
View Case Study